Wagah Border Taxi on Rent in Amritsar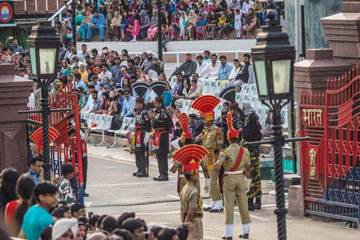 Rk Travels leading a Amritsar based, rent a cab agency. Rentals for outstation Amritsar Wagah Border taxi at Rk Travels. Best, On-Time, Comfort & Reliable Taxi Service Provider in Amritsar. The Wagah Border is located at a distance of 22 km from Lahore and 28 km from Amritsar. one way Taxi Amritsar Wagah Border, Amritsar Wagah Border round trip taxi, taxi on rent, Amritsar Wagah Border drop service, car rental for Wagah Border, Amritsar to Wagah Border car hire service. We Provide Best Taxi Service from Amritsar Wagah Border One Way and other cities also. Every evening, just before the sunset, the soldiers from the Indian and Pakistan military meet at this border post to engage in a 30-minute display of military showmanship.
About Wagah Border Ceremony
The Wagah Border Ceremony, more popularly known as Beating Retreat Ceremony, was started in 1959. The purpose of "Wagah Border Ceremony" is to formally close the border for the night and take-off the National Flag of both nations. The Flag Lowering Ceremony is done daily before sunset. However, this is an entertainment ceremony but displayed as patriotic performance every day. During Wagah Border Ceramony; National Anthem is played, slogans of patriotism and dance is also performed on Bollywood songs. Apart from this, sometimes cultural programs are also organized. In this ceremony, people from other countries of the world along with Indian citizens participate.
---