Wagah Border Tour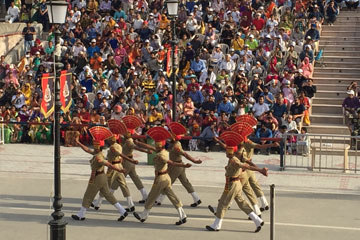 The only road border crossing between India and Pakistan, Wagah lies between Amritsar in India and Lahore in Pakistan, and is located approximately 30 kilometres away from the city.
It is home to the Radcliffe Line, which is the demarcation between India and Pakistan and was drawn during the partition of India in 1947. The illustrious lowering of the flags ceremony takes place here at the Wagah Border; a daily military practice followed by the Border Security Force (BSF) and the Pakistan Rangers, since 1959.
Wagah Border attracts crowds in large numbers including elderly people, children and foreign nationals. From shouts of patriotism, to the powerful show put up by the BSF and Pakistan Rangers, a visit to Wagah is a gripping experience.
• Opening Closing Time: 4 pm onwards, every evening
• Entrance Fee: Free
---